Children in Christ Orphanage Home Ondo getting ready for School.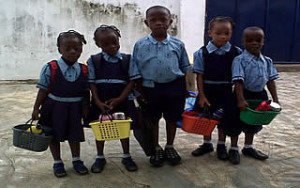 Child sponsorship assist us in helping the children grow and thrive. This work is done by partnering with members of the community to address both their immediate and long-term needs
Your sponsorship gifts help a child obtain access to important basics like clean water, nutritious food, healthcare, education, and more.
With a sponsorship donation of N20,000 you are helping us save a child.
Will I get to know my sponsored child?
You'll be given the opportunity to personally connect with your sponsored child and build a relationship that could change both of your lives in a unique way. There are many ways to get to know and encourage your child—through letters, emails, cards, packages, and more.
DONATE – click here and learn how to donate to Christ Orphanage Home Ondo